Jessie and Raymond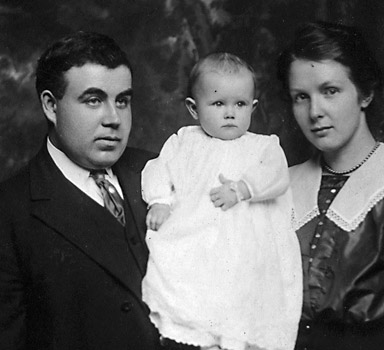 39. Jessie Lapp Weinbrecht, Will and Ruth
(left to right) William, Ruth, Jessie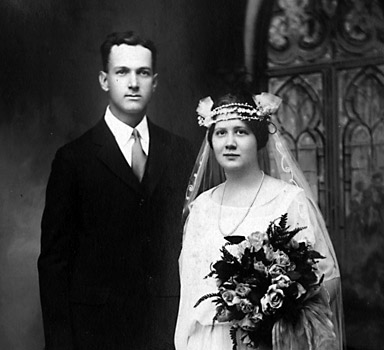 38. Raymond Lapp and Wifee
Raymond Lapp, Gretchen Obermaier
Jessie and Raymond were Anna's niece and nephew, children of Albert Lapp and Christina Fisher. (Albert was William H. Lapp's brother.) In 1900, they were living in Poestenkill, next door to Christina's parents and siblings. Jessie was born 15 June 1889, and Raymond was born 30 November 1896.
Jessie married William Weinbrecht in 1914. William's first wife, Emily M. Ives, died in childbirth in 1911, at the age of 20. William and Jessie's daughter Ruth was born in 1916. Ruth married Edward W. Barnes and had two sons. William died in October of 1955. Jessie died in September of 1977 in Vergennes, VT. Jessie, William and Emily are all buried at Hillside Cemetery in Poestenkill.
Raymond married Gretchen 2 October 1924. In 1930 and 1940 they were living with Gretchen's mother Della in Poestenkill, NY. They apparently had no children. Raymond died in St. Petersburg, FL in May of 1969.