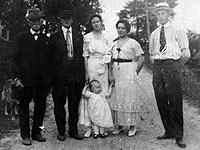 "The whole family - 1916"
Gilman, Ernest, Luella, Bernice, Lillian and Carl
This is an album of old family photographs compiled by my grandaunt Lillian around 1916. Most of the pictures were taken in the early 1910s, although a few may be older.
Lillian clearly labeled most of the pictures in the album. What she wrote is reproduced here in "quotes." Bold text is my identification of the subject, where that might not be obvious from the original caption. Links may connect to another page here or to an external site.
I've organized the photographs by subject, so pages here don't correspond to those in the original album. I've numbered the photographs in the order that I scanned them, which for the most part is also the order in which they appear in the album.