Andrew and Carrie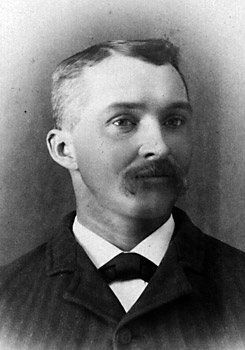 44. Uncle Andrew • Andrew Lapp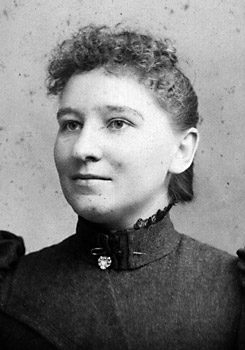 43. Aunt Carrie • Carrie P. (Dean) Lapp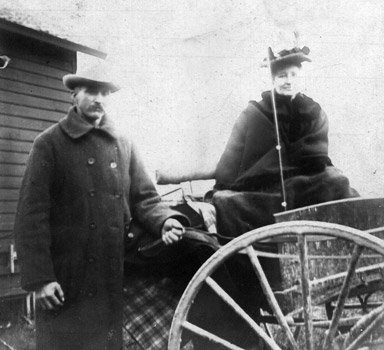 42. Uncle Andrew and Aunt Carrie Lapp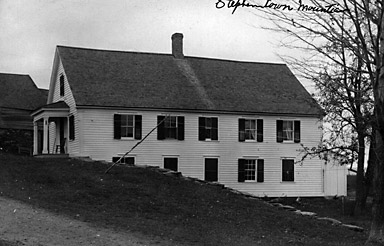 45. Aunt Carrie and Uncle Andrew's home, Stephentown Mountain
Andrew (1859 - 1932, William Sr.'s older brother) and Carrie (1860 - 1931) are buried at Garfield Cemetery in Stephentown. In 1912, they signed a quilt made by the North Franklin Aid Society to raise money for an organ for the Aldritch Baptist Church. In 1999 the quilt was donated to the Delaware County (NY) Historical Association in Delhi.
Taped in the album between the portraits of Andrew and Carrie is a newspaper clipping (December 9, 1930 Troy Times, p. 6) describing a celebration of their 50th wedding anniversary.
Stephentown Folks Observe Golden Jubilee

Mr. and Mrs. Andrew Lapp Wed 50 Years
Many Vicinity Residents Present at Celebration

Mr. and Mrs. Andrew Lapp celebrated their 50th wedding anniversary Sunday at their home at Stephentown. Many relatives and friends paid their respects to the couple.

Mr. and Mrs. Lapp were married in the town of Stephentown December 9, 1880, by Rev George Vetter. Mrs. Lapp, before her marriage, was Carrie Dean and was born March 15, 1861, at Stephentown, where she has resided the greater part of her life. Mr. Lapp was born at Sand Lake May 10, 1858.

Reca'l Similar Celebration

Several persons present remembers [sic] a similar event taking place at the old homestead, where Mrs. Lapp's father and mother celebrated their 50th wedding anniversary. The family has been located at Stephentown almost 100 years.

The couple received many gifts, including a purse of gold. A buffet lunch was served and floral tributes were in profusion. Vocal selections were rendered, after which Rev. Peter Vining congratulated the couple.

Those Present

Among those present were Jacob Dean, Mrs. Mary Wise, Mrs. Tillie Smith, Miss Freida Tamm, Mrs. Hattie Chittenden, Mr. and Mrs. Fred Geerholt and William A. Lapp, of Stephentown; Mr. and Mrs. Harry Dean and son Russel, of Watervliet; Mrs. Anna Lapp Lansing and William H. Lapp, of Green Island; Albert Lapp, Mr. and Mrs. William Weinbrecht and daughter Ruth, Gretchen and Raymond Lapp, of Poestenkill; Adrian O. Van Dervoort, Mr. and Mrs. Albert C. Van Dervoort, Mr. and Mrs. Edward Gavin and daughter Doris, Mr. and Mrs. Donald R. Hughes and daughter Viola, Mr. and Mrs. Peter H. Dean, Mr. and Mrs. Jay E. Dean and son Lloyd, of Troy; Miss Betty Schultz and Douglas Elliott, of Albany.
Mrs. Anna Lapp Lansing is Anna, my great-grandmother. Her husband died four years earlier, so the William H. Lapp accompanying her is her son. But why is she giving Lansing as her last name? It's not a misprint, since she's also listed as Anna Lansing in the 1930 census. This was a mystery for a very long time, until I found a small notice on page 9 of the May 13, 1929 Troy Times.
My wife, Anna Lapp Lansing, having left my bed and board, I will no longer be responsible for debts contracted by her.

GARRIT H. LANSING
They were married only a year earlier. From the April 10, 1928 Troy Times:
The marriage of Mrs. Anna L. Lapp of 12 Hamilton Street, Green Island, and Gerrit H. Lansing of the Troy-Schenectady Road took place yesterday afternoon at the First Presbyterian Church. The ceremony was performed by Rev. Robert E. Schwenk, pastor of the church. Mr. and Mrs. Lansing left on a wedding trip to New York and on their return will reside in Colonie.
In the 1930 census, Garret H. Lansing is listed as married but living by himself on Troy-Schenectady Road near Albany. According to online family trees, he married Emma L. Marohn around 1900, and Emma died in 1927. In 1940, Garret is living with his daughter, Edith, and listed as widowed in the census, but I don't yet know whether his marriage to Anna was ever formally dissolved.