Before Anna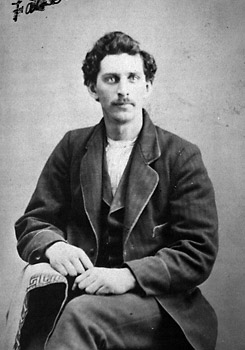 29. Anna L. Lapp's Father • Father Peter Loven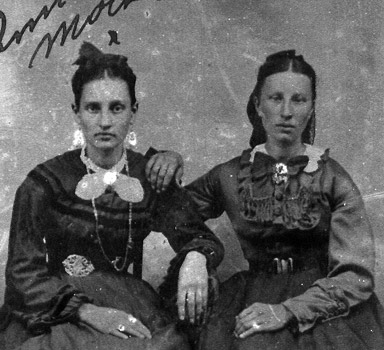 c. Anna L. Lapp's Mother • Mary Halstead (left)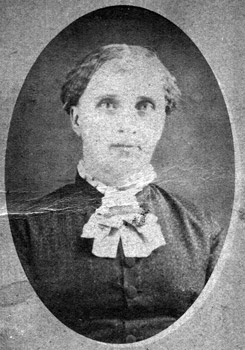 63. Grandma Loven • Peter's mother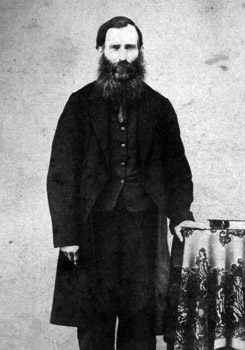 30. Uncle Matt Loven • Peter's brother
Anna's father is clearly identified by name in the album, but her mother isn't. My first clue to her mother's name was among some old marriage records for Delaware County, NY, an entry for Mathias Loven and Anna Odell, married sometime in 1908. Mathias's parents are listed as Peter Loven and Mary Halstead. Based on this, I presumed the Mathias in photo 68 was Anna's younger brother, and the woman identified as Anna's mother in photo c is Mary Halstead, who probably had a sister named Ida. Other records found later support this.
I found Peter and Mary in the 1880 census, living in Wayne County, PA, which is adjacent to Delaware County in NY. They have a daughter Mary, 5, and a son John, 2, the John Loven that Anna is later pictured with.
1890 orphanage admission records for Anna (see her page for more about the orphanage connection) state that her father was shot and killed in mid-August, in PA, and a search of Wayne County newspapers has confirmed that he was killed in a domestic dispute on August 9, 1890.
The orphanage records list two of Peter's brothers, Matthew (pictured here) and Jacob, both of whom are said to be working in a glass house in Brooklyn, NY. Wayne County is known for its history of glassmaking, so it's not hard to imagine Peter's brothers starting out there and then taking their skills to New York City.
In the 1900 census, Mary and her son John and daughter Nora, 12, are living with a second husband, Charles Monigan, in Port Jervis, Orange County, NY. (The picture of John and Anna was also taken at a studio in Port Jervis.) Nora is probably Norma, mentioned in letters to the orphanage from Anna's mother and sister. Mary has had 8 children, 6 of whom are still living in 1900. It's fairly clear now that these six children are Mary, John, Anna, Frank, Mathias, and Norma.